One Drive Basics
One Drive is the only place you can save your files and have a reasonable expectation for the safety, security, and integrity of your data.
Any files stored on your device instead of One Drive are not backed up and cannot be recovered if they are lost or corrupted or if the computer is damaged.
Windows 10 devices have OneDrive built in. Any files you save to One Drive will automatically be uploaded to the cloud and syncronized with any Windows 10 device you login on. You can also access your One drive content with free apps on Android and iOS.
One drive provides you with great features like:
Secure backup
Version History
1000GB of Cloud Storage
Easy Access from any device
Content sharing
Real-Time Collaboration
Tight Integration with other Microsoft products
Jump to How to Use One Drive.
Short video tutorials from Microsoft on One Drive features.
Microsoft One Drive Help Videos
Accessing your files
There should be a shortcut to the File Explorer on your taskbar...the manilla folder icon.

If you do not have a vertical sidebar with "Quick Access," "This PC," etc. click in the top bar on "View," then Navigtion Pane and check the Navigation Pane item.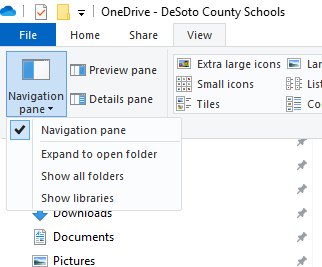 In your file explorer, in the left sidebar, you should have a folder with a blue cloud icon named "One Drive - DeSoto County Schools.

You can also access your files from the blue cloud icon in the system tray (right end of the taskbar.)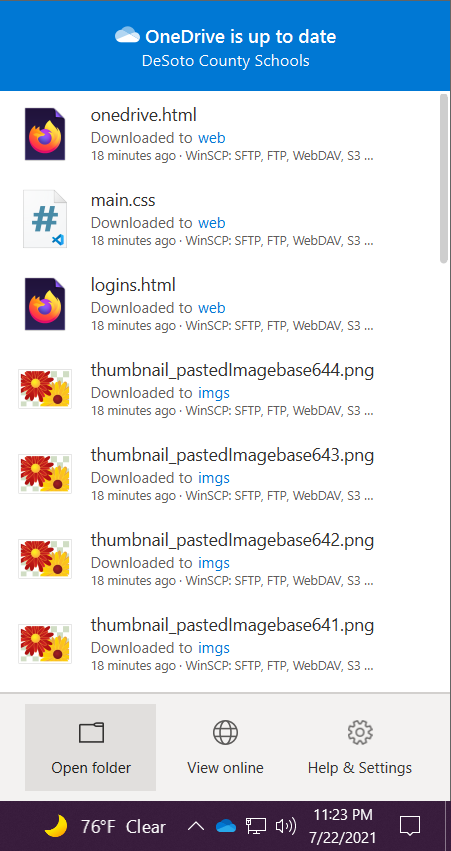 This is the appropriate place to save all files.
If the folder only says One Drive, and not DeSoto County Schools, go to the start menu and click the One Drive icon to start One Drive and begin sync.
You may create folders and organize your data in any way you like. Work from this folder to save, edit, and access all of your files. This is your personal, secure file storage accessible only to you and anyone with whom you choose to share documents.
For additional access options, you may right-click the One Drive folder, or any of its subfolders, and create a shortcut for your desktop, if you like.
In the above image, the section of the right-click menu with the blue cloud icon is for One Drive options. These links will help you manage your files, sharing, and other features
Files On Demand
This folder makes files in your One Drive available "On Demand." These files are not on your computer, but are accessed via the cloud as needed.
The hard drive storage space on modern devices is increasingly small. Your One Drive will hold 1000GB of data. Your laptop will hold less than 100GB.
In this location, files and folders have an icon in the "Status" column.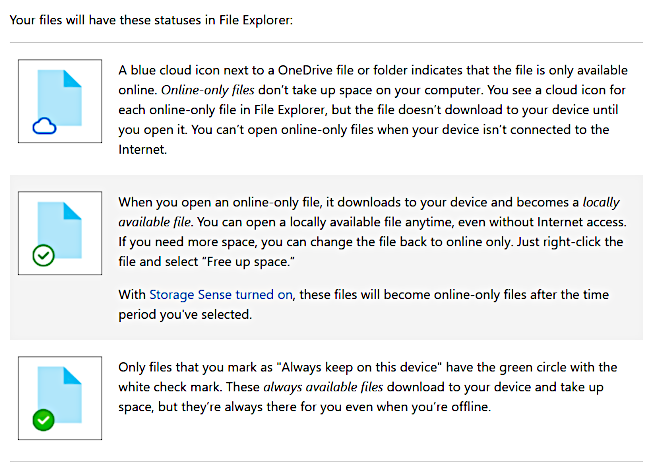 You can share files and folders, open them in the One Drive Web App, or make them available offline by right-clicking the item in this folder.

Enabling Files On-Demand / One Drive Backup
Click on the blue cloud icon in the System Tray (right-hand area of the taskbar). In the popup menu click on the gear in the upper, right-hand corner, then select Settings.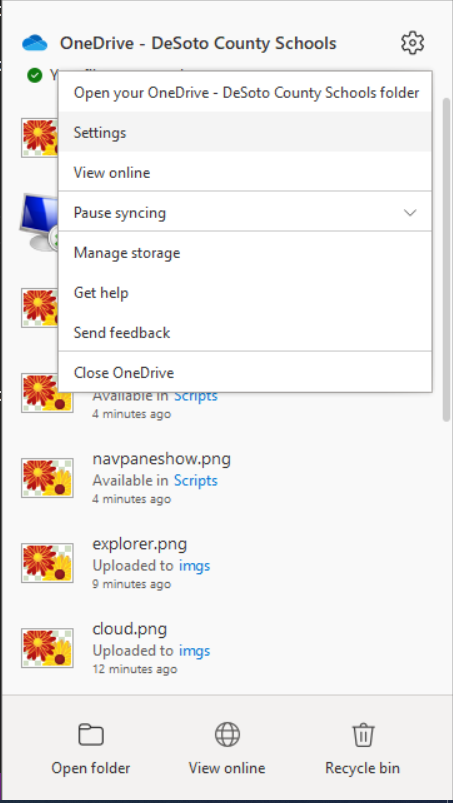 In the Settings window, click on the third tab named Backup, then click the Manage Backup button.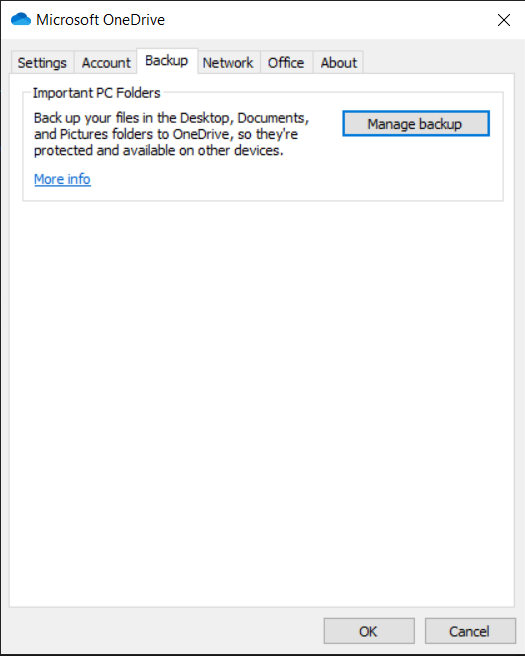 This window will allow you to elect to backup your Desktop, Documents, and Pictures folders to One Drive.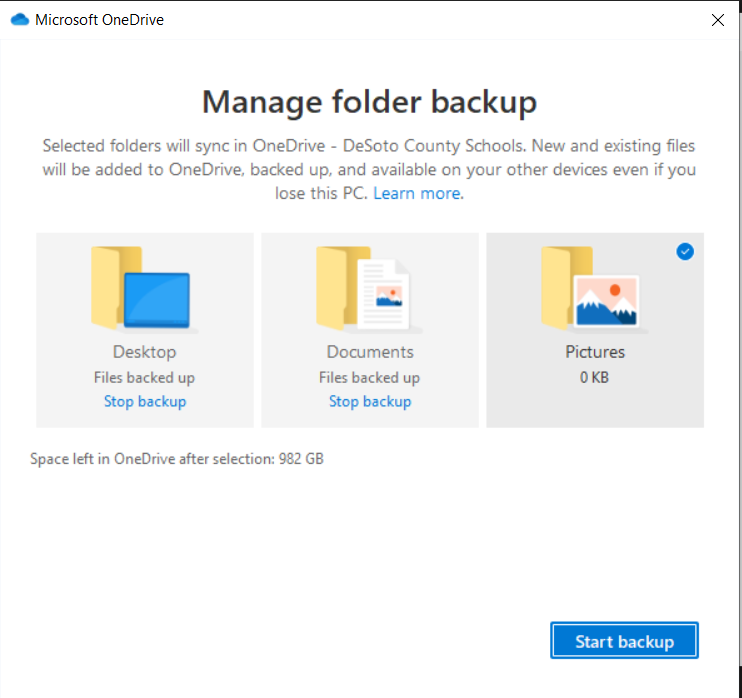 By default, all three folders are selected. Click the Start Backup button to begin backing up those folders.