OneDrive offers you a simple way to store, sync, and share your files. Windows 10 / 11 uses OneDrive also to synchronize system settings, visual customizations, themes, app settings, and even Microsoft Edge's tabs, browsing history, and saved passwords. You can access the files stored in your OneDrive directly from a web browser, straight from Windows 10, or a OneDrive app on your PC or device. Microsoft has developed OneDrive apps for iOS, Android, macOS, Xbox, and all versions of Windows.
One Drive App for other devices
Get the App
The Windows App
With OneDrive Files On-Demand, you can:
Save space on your device by making files online only
Set files and folders to be always available locally on your device
See important information about files, such as whether they are shared
See thumbnails of over 300 different file types even if you don't have the required application installed to open it
When the One Drive App is running on your computer you will have a blue cloud icon in the System Tray on the right side of your taskbar.

Clicking this icon will open the tray app to show you sync status and buttons to open your One Drive folder, the One Drive Web App, and the One Drive Recycle Bin.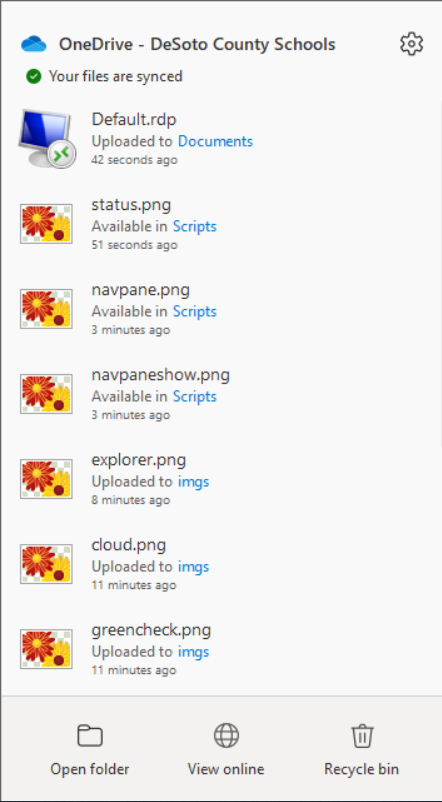 Files On-Demand / Known Folders
Files On-Demand should be enabled on your DeSoto County Schools issued device. This will automatically back up Known Folders on your computer and sync them to your One Drive. The set Known Folders are Desktop, Documents, and Pictures. Anything you save to these three folder locations is automatically in your One Drive.
These folders can be found in the One Drive - DeSoto County Schools folder along with all your One Drive content. The One Drive - DeSoto County Schools folder on your computer allows you to access files in your One Drive "On-Demand," or As-Needed. These files are stored in the One Drive cloud and are downloaded to your computer as you use them. Files you use frequently will be available on your device(s) even if you have no network access.
The Folder
Your One Drive content is available in the File Explorer on your computer.

In the File Explorer Navigation Pane (left sidebar) you should have a folder with a blue cloud icon named "One Drive DeSoto County Schools."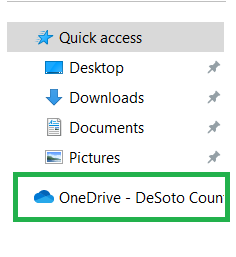 If you do not have this sidebar you can enable it by clicking "View" in the top ribbon. Then click Navigation Pane, then select Navigtion Pane from the drop-down.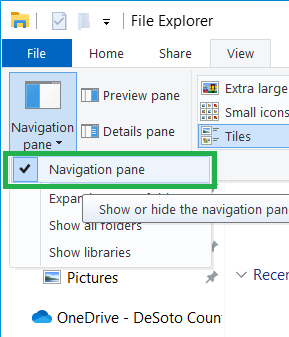 Right-clicking any file or folder will open the context menu and offer some basic tasks you can perform on these items.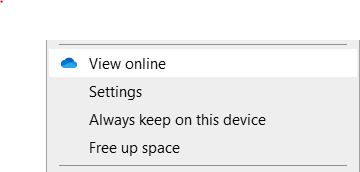 File Status
You'll know that Files On-Demand is turned on if you see the status icons next to your files in File Explorer.:

A blue cloud icon next to a OneDrive file or folder indicates that the file is only available online. Online-only files don't take up space on your computer. You see a cloud icon for each online-only file in File Explorer, but the file doesn't download to your device until you open it. You can't open online-only files when your device isn't connected to the Internet.

When you open an online-only file, it downloads to your device and becomes a locally available file. You can open a locally available file anytime, even without Internet access. If you need more space, you can change the file back to online only. Just right-click the file and select "Free up space."

With Storage Sense turned on, these files will become online-only files when free space is needed.

Only files that you mark as "Always keep on this device" have the green circle with the white check mark. These always available files download to your device and take up space, but they're always there for you even when you're offline.
File Sharing
Share stuff from One Drive Web, One Drive in File Explorer, Office Web Apps, and Installed Microsoft Office Applications.
Blah, blah, blah...work in progress
Microsoft Office
Navigating One Drive locations in Microsoft Office
Blah, blah, blah...work in progress